Viola Ann Seddon – Dancers, Ballerinas & Acrobats Posted on
Toy theatre friends
The best thing about running in a shop is meeting all your customers. Some who become friends, podcast guests, artistic collaborators.
At the end of last year I was trying to source a toy theatre.  The ballet in a box 'Swan Lake' by Jean Mahoney and Viola Ann Seddon, published by Walker Books had been a very popular pull out and play theatre.
And so perhaps I manifested the visitation of a glamorous lady asking after Simon who happened to be her namesake. Both of them having the same last name Seddon.
The exhibition is conceived…and cancelled…and resurrected
After a serious of email mishaps I finally met up with Ann Seddon in the Royal Opera House, Covent Garden. Over a cup of tea and a hatbox full of the most delightful handmade dolls, Ann and I shared stories of our adventures in Hong Kong. We discussed our interest in dollhouses and dioramas. She told me about her life changing event of working with Australian artist Mirka Mora. There and then we hatched a plan to exhibit Ann's work at Benjamin Pollock's Toyshop at Easter 2020.
In February this year, Simon and I visited Ann at her flat in London. Simon and I immediately were enchanted by the bijou Bohemia she had created with an artist's eye. 20s Hong Kong meets the Bloomsbury group. The apartment was decorated with puppets and dolls, Japanese porcelain and Staffordshire pottery. We enjoyed a show and tell on our phones, and exploring Ann's dining room studio. There we found caches of Victorian peg dolls, junk shop dollshouses and her beautiful ballet dolls. Defying the fabric and technique, Ann creates the movement of a dancer in a hand sewn doll swathed in delicate and shimmery fabrics.
Ann was finishing her tableaux to illustrate Operas and Ballets when the health crisis hit London. We closed our doors of our Covent Garden shop to our customers on March 19th. Along with the rest of the world – artistic projects were cancelled. Within weeks the creative communities adapted to offer their work to an online audience. We are pleased to announce here and on our social media pages the digital exhibition
'The Opera House in a Box' by Viola Ann Seddon – Opens 10th April 2020
Ann Seddon – An idyllic time in Hong Kong
Born into a theatrical family in Melbourne in 1944. Ann moved to the UK in the late 60s and worked as a wig assistant at The Old Vic and a fashion illustrator before the birth of her daughter Olivia. On moving back to Melbourne in 1974 Ann took up doll making classes with the artist Mirka Mora who inspired Ann to make three-dimensional figures. She then moved to Hong Kong with her husband Christopher who was there to oversee the building of the Hong Kong Shanghai Bank as a director for Norman Foster Architects.  Ann says of this 9 years where she ran a drawing group 'The South Bay Artists'  "The whole place then had such an exotic character. We owned a Chinese fishing Junk and every weekend would have a day's outing to the Islands to get some peace and fresh air. It was a very idyllic time. I did lots of sketches of the street markets, but my Chinese friends didn't understand my attraction to the amazing side of Hong Kong!"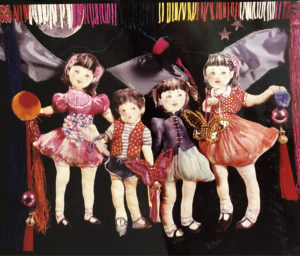 Ann's love of ballet from Hong Kong to Japan to St Petersburg
By the end of the 1980's Ann's husband's work took the family to Japan where Ann continued her artwork and published two illustrated children's books 'Hansel and Gretel' and 'The Lullaby Song Book'. When Christopher moved from working on the new airport in Hong Kong to The Hermitage in St Petersburg Ann felt lucky to get the chance to live in Russia, soaking up the ballet and Tchaikovsky, which inspired her work on The Nutcracker book & toy theatre with her Vienna based writing partner Jean Mahoney.