Red Letter Days from 1970s Soho to 2020s Shanghai Posted on
Our link to Pollock's Toy Museum in Fitzrovia is through it's founder Marguerite Fawdry. Growing up in London, I was a frequent visitor to the Museum and sometimes my parents would pack me off to stay with my surrogate grandparents Marguerite & Kenneth in Fitzrovia. 
Me at Pollock's Toy Museum in the 1970s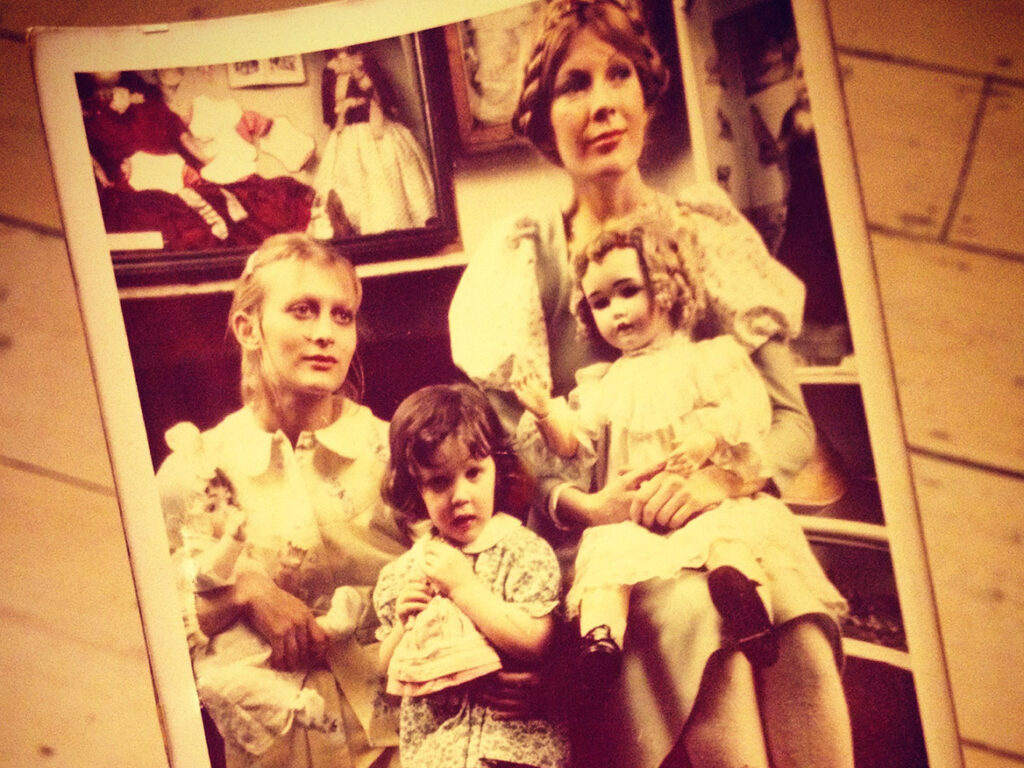 Marguerite was a Sinophile and the excitement of visiting nearby Chinatown in Soho with her was a childhood highlight. I was fascinated by the paper dragons on sticks, exploding into riot of red and pink tissue paper and the paper lanterns that would decorate Gerrard Street at the Lunar New Year.
Paper Dragons ("In Chinese folk-tales dragons do not have quite the same nasty habits as their Western cousins" – from 'Chinese Childhood' by Marguerite Fawdry)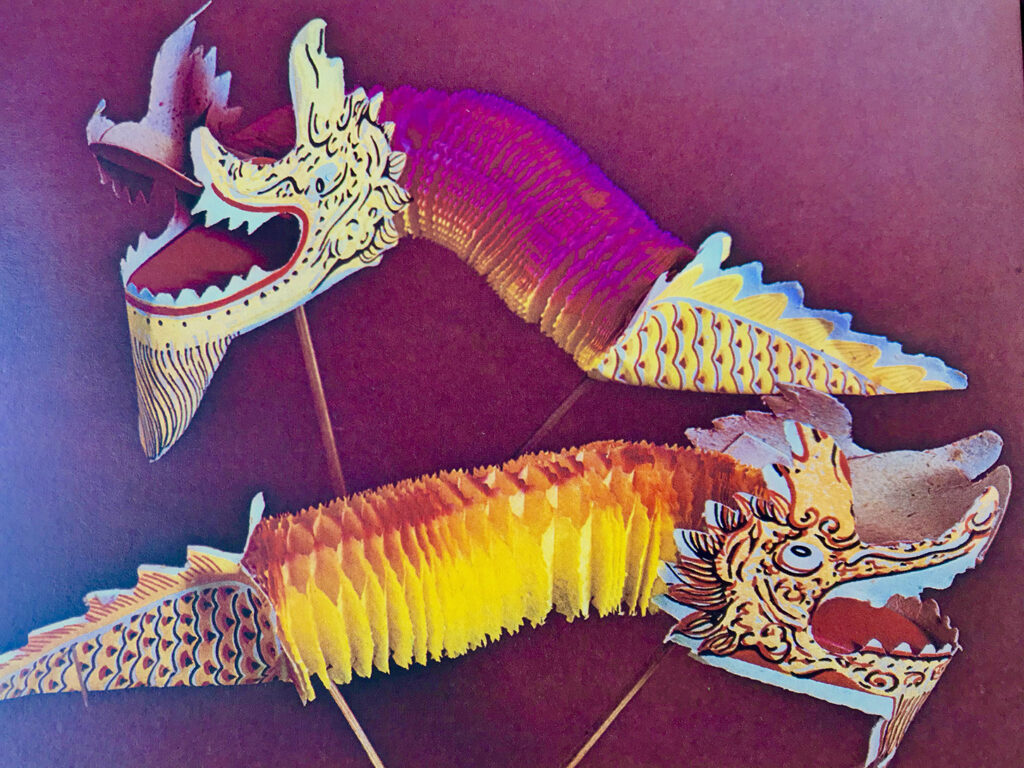 Marguerite imported the dragons and the tumbling paper Jacobs ladders to fill up her Museum toyshop. Brightly coloured chenille birds, and crocheted miniature pandas would become new pets for the week. However, the most love was reserved for the stuffed rag dolls, dressed in Chinese silk pyjamas.
Ada Lunn Rag Dolls, first made in Shanghai and then Hong Kong by Christian Missionaries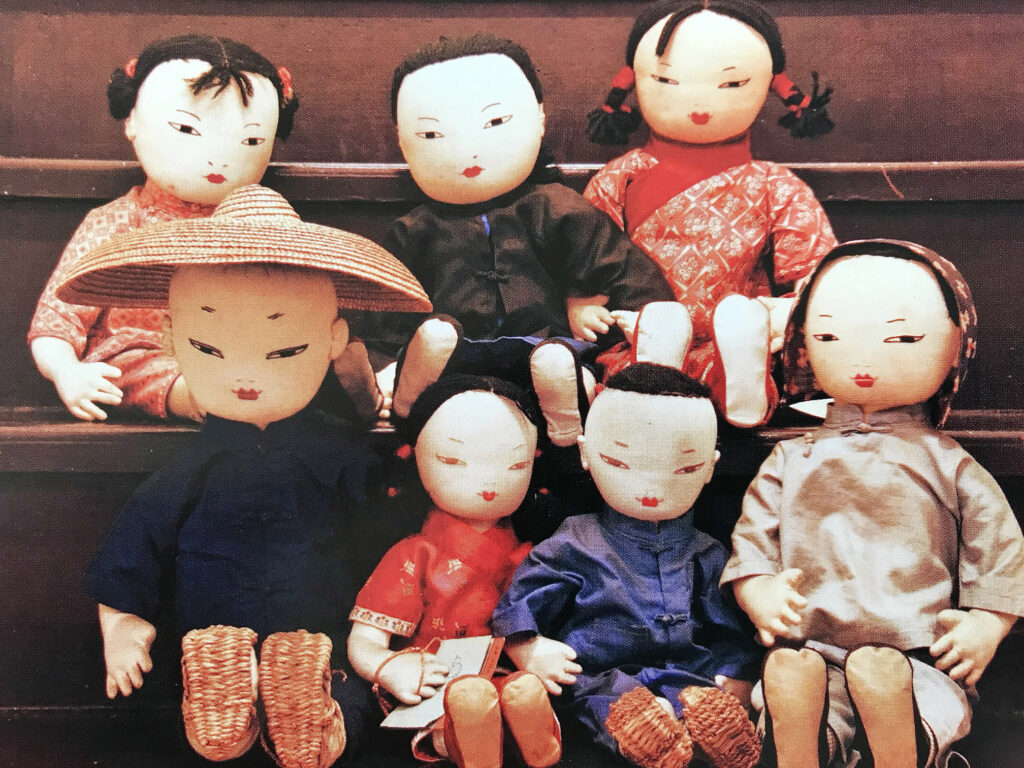 In the last half of the 20th century most toys were 'Made in China' and imported to the West. The skills of ancient handicrafts were used to make the cheap novelties. The kingdom known for Mah Jong engaged the technical knowledge of paper cutting, weaving silk, tinplating and firing porcelain to churn out brightly coloured small things for children at a great rate. Later, a mis-informed Western public would bemoan the fact of toys not being made in Europe but the truth was the skill and handwork that went into Chinese toy making were to be marvelled at. 
Image from Chinese Toys by Marvin Chan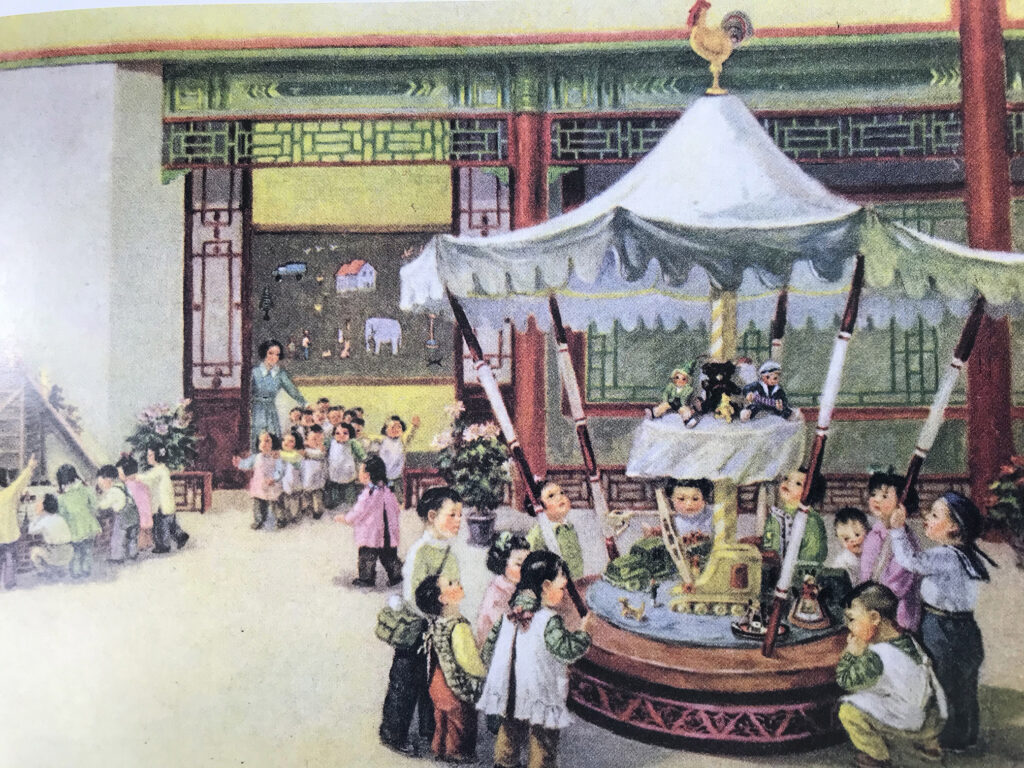 My 70s childhood immersion into Chinese culture was through these favourite toys that first were found at Pollocks, later in Covent Garden's Oriental emporium Neal Street East and then infiltrated to every market stall and toyshop. Monkey Magic was on the BBC after school, a Japanese Tv programme based on 16th century Chinese folklore introducing us to superheroes of Eastern mysticim. In the playground 'Everybody was kung fu fighting' literally. The populism of asian martial arts went through primary schools like cross cultural wildfire as K-Pop would do 9 Olympic Games later.
Jeannine from the Covent Gardener practices her martial arts at the home of Bruce Lee and Wing Chung on the Benjamin Pollock's Toyshop trip to Foshan in 2018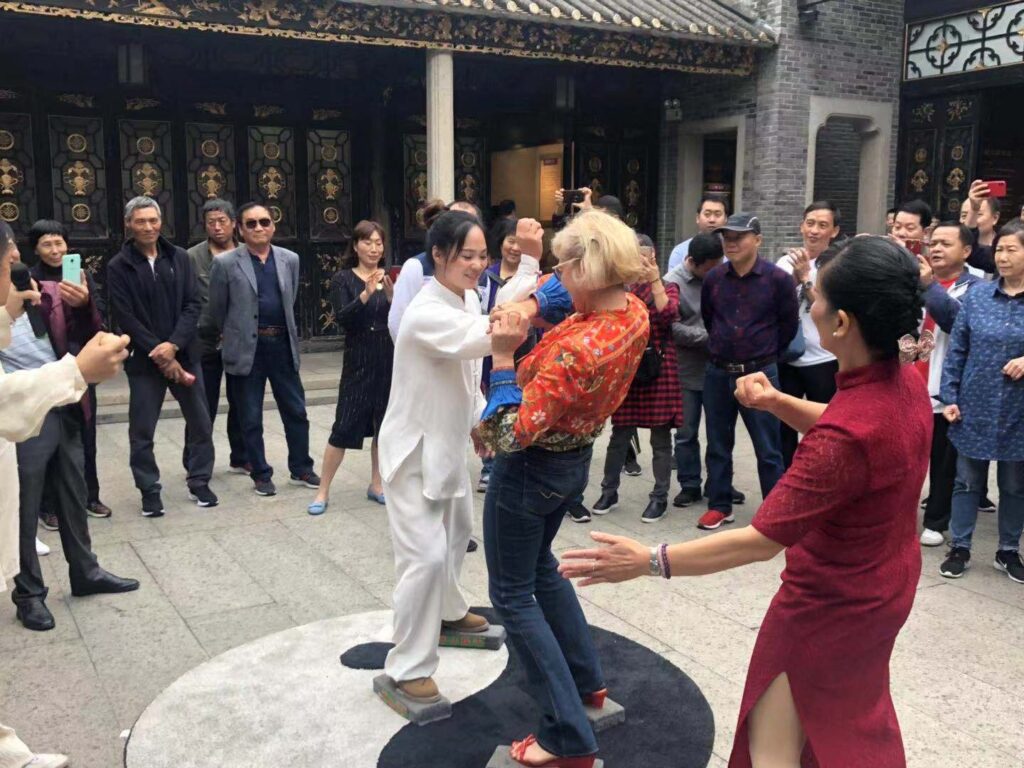 Ping Pong had helped with diplomacy on the world stage and also in the playground and fireworks lit up a drab London sky on Guy Fawkes Night.
Table Tennis Tin Toy from the collection of Marvin Chan, Chinese Toys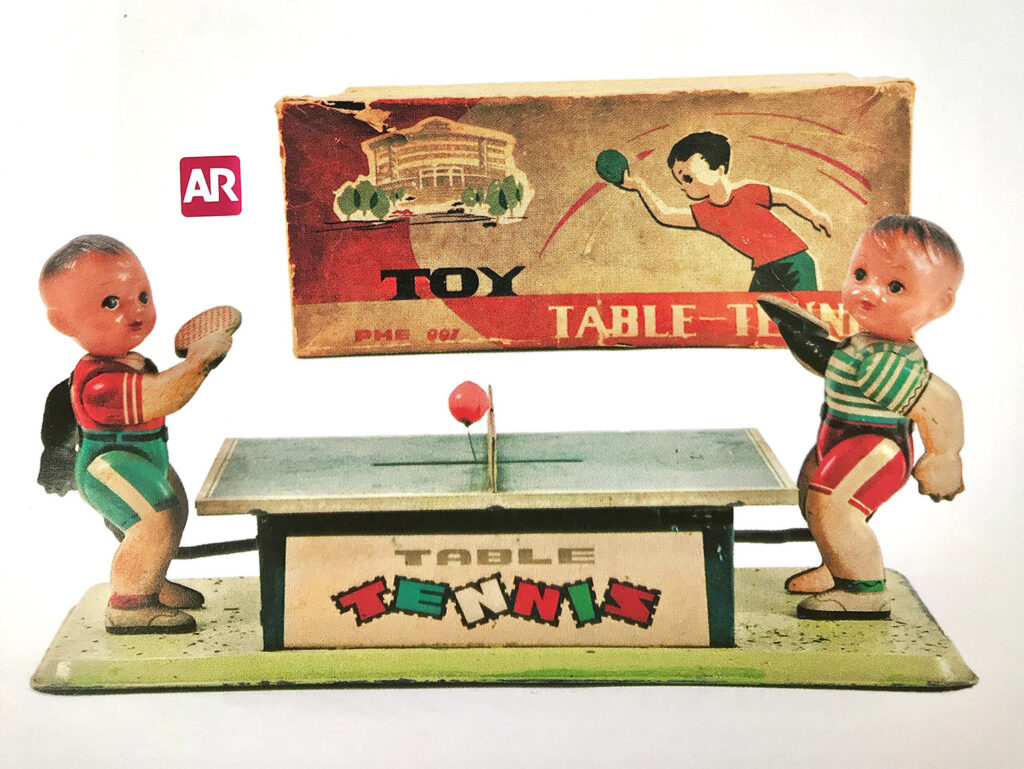 Once a Chinese customer told me how she loved to come to Covent Garden to buy presents because as a child growing up in China the tradition of gift giving was resigned to money in a red envelope and the cooking of fish.
Half a century later and this cultural exchange has been inverted. Christmas 2020 and Benjamin Pollock's Toyshop brings some British theatricality to Shanghai. Now this time, our miniature theatres are built large in record speed and decorate the luxury shopping centre as entertainment for children.
Performance at 'Wishingland' in L'Avenue, Shanghai 2020 in a Benjamin Pollock's Toyshop Theatre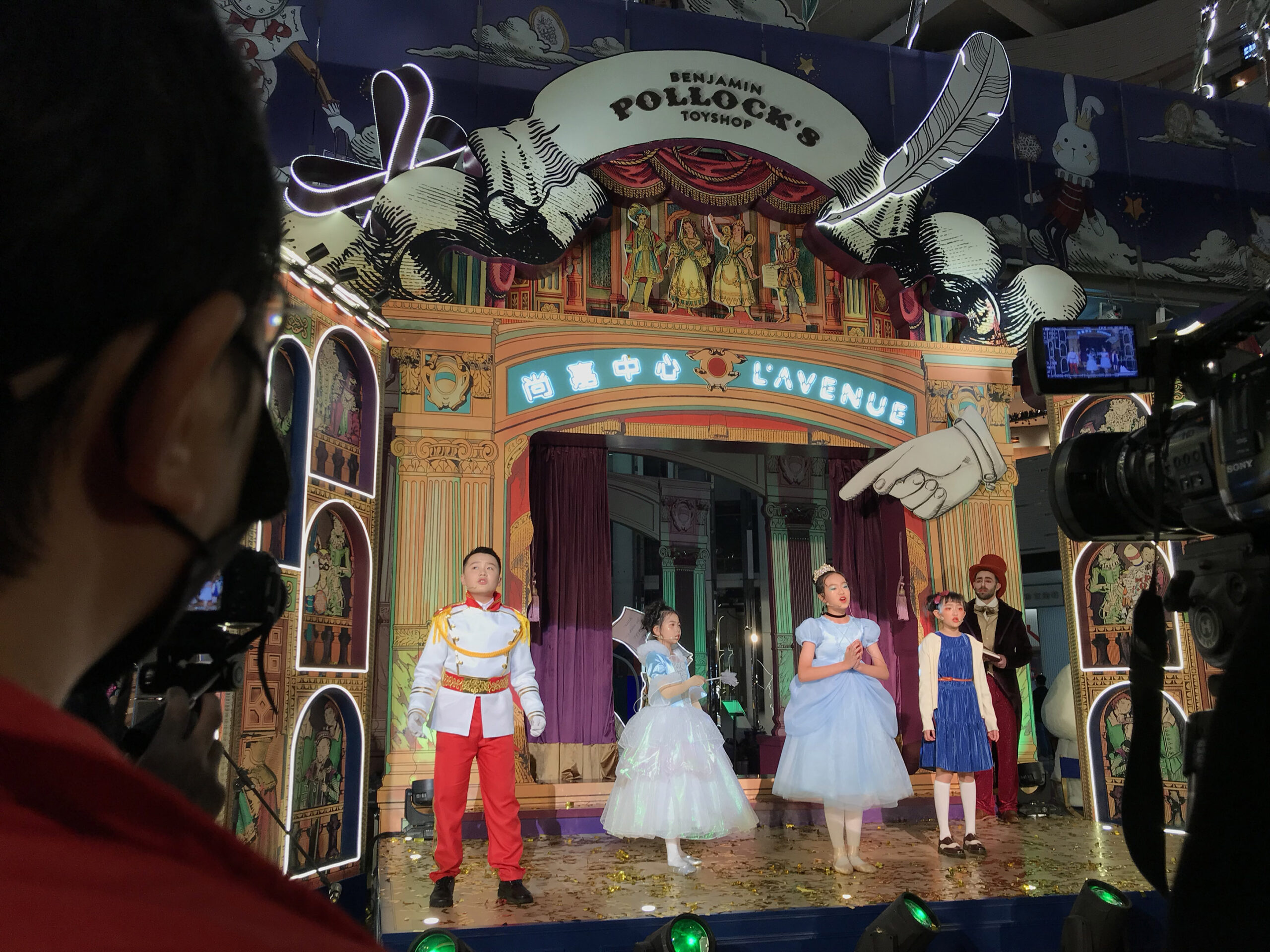 On the official switch on of the lights, a cast of children sang songs from hit West End shows such as Matilda and  a fairytale mash-up created with characters from Simon's shadow boxes dancing over life sized Cinderella theatres with Mr Pollock now imagined old Father Time.
Pantomime Feast Shadow Box by Simon Seddon incorporated into the display at L'Avenue, Shanghai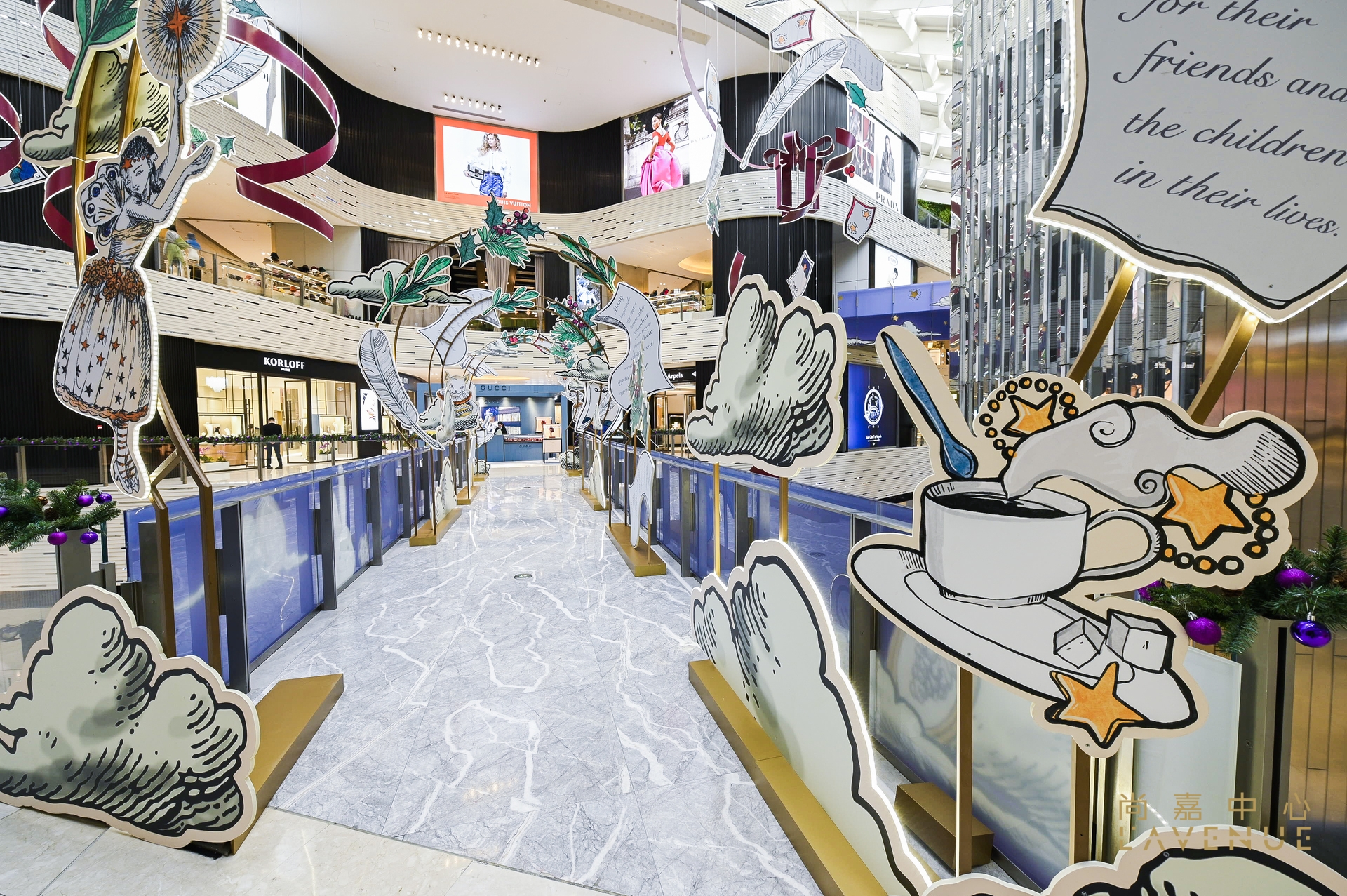 Marguerite Fawdry's book A Chinese Childhood was published in 1977. I still have my inscribed copy. She introduced me to the "fantasies and legends of a world of extravagant buildings, and dragons whose scales shine like pearls in the night" and we have been honoured to share a piece of our London Childhoods to China.
Benjamin Pollock's Toyshop exhibition in Foshan, China 2018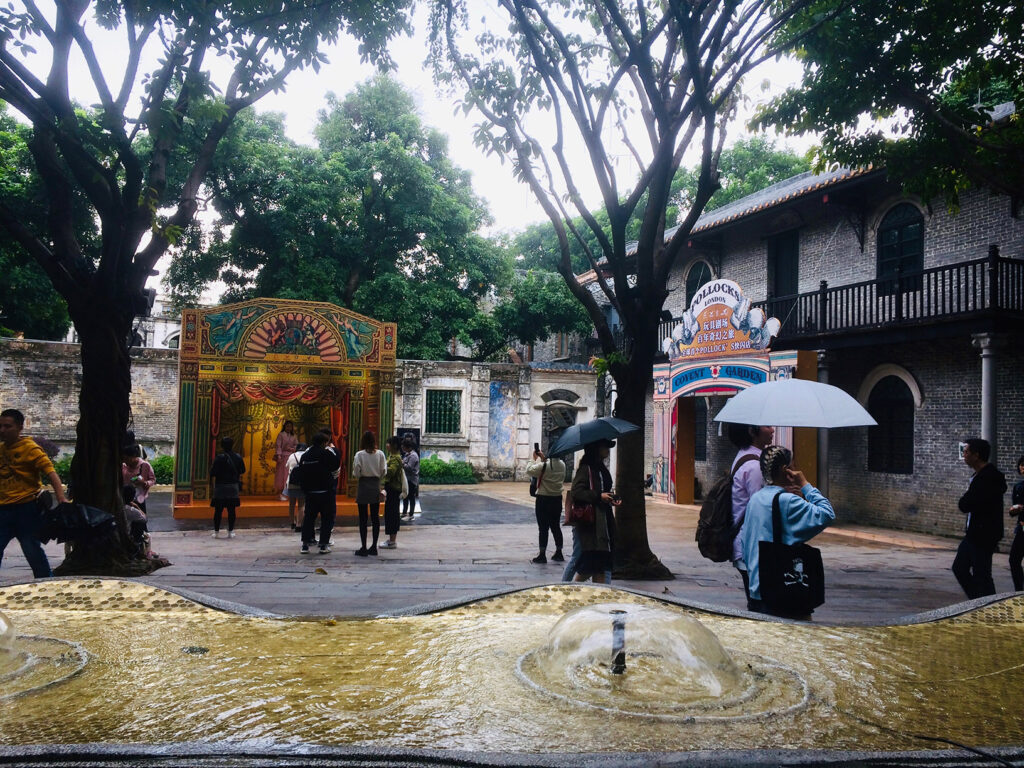 Louise Heard/Lunar New Year 2021