Regency Clowns and Grimaldi's Jolly Journey to make George IV laugh Posted on
With Regency fashions currently cutting a dash across our screens, we have been immersing ourselves in the life of Grimaldi, the most popular English entertainer of the Regency Era. Born into a family of dancers and comic performers in the slum known as Clare Market, Covent Garden he was a principle performer at the Theatre Royal Drury Lane in the grandiose and spectacular Harlequinades.
Architecturally, Brighton with his famous dome topped pavilion has to be one of the most evocative and lavish symbols of the Prince Regent's extravagant lifestyle. An exotic seaside pleasure palace, the Pavilion mixes Regency grandeur with minarets and decor from India and China. The Prince Regent liked the good things in life, and was a theatre lover. 200 years ago in 1821 the vain and indulgent now King (George IV)  was suffering from gout and needed a good laugh. Grimaldi, was towards the end of his career, years of slapstick and tumbling had taken their toll. The (coach) racing driver of the day, the former aide de camp to Wellington 'Major Henry Somerset, seventh Duke of Beaufort and the Marquess of Worcester 'was willing to risk life and limb to present the most celebrated comedian Joseph Grimaldi to the King.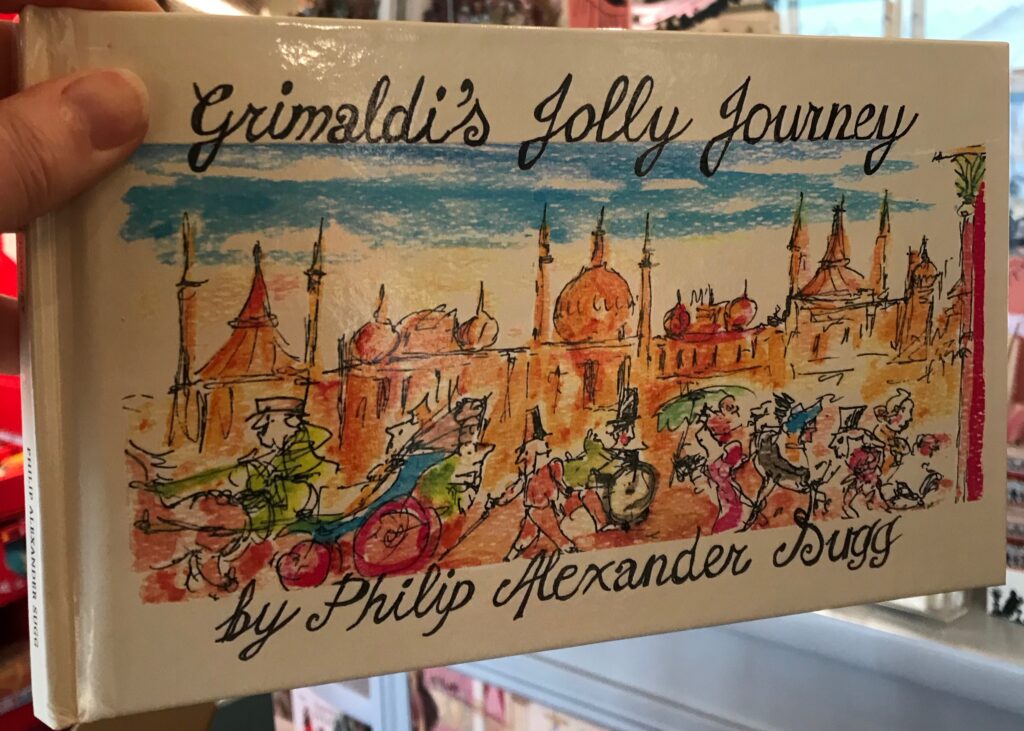 Artist and miniature theatre model maker Phillip Sugg, a Brighton resident has imagined  'Grimaldi's Jolly Journey' for his book of the same name.
'Will the famous clown Grimaldi make it from Covent Garden to the Brighton Pavilion overnight to cheer up George IV, who finds life less jolly than when he was Prince Regent? It all depends on the Marquis of Worcester, who is a crack coach driver amongst many other attributes, and whether he can battle the roads of 1821, including highwaymen, headless ghosts and lots of mud. That's the wager George has made with him!"
When Philip Sugg was invited by fellow artist and illustrator Amanda Rosenstein Davidson to join an exhibition 'Pictures, Puppets and Performance' at the Regency House, Brunswick Square in 2018, he decided to make up a story for a Regency style moving diorama called a 'crankie'.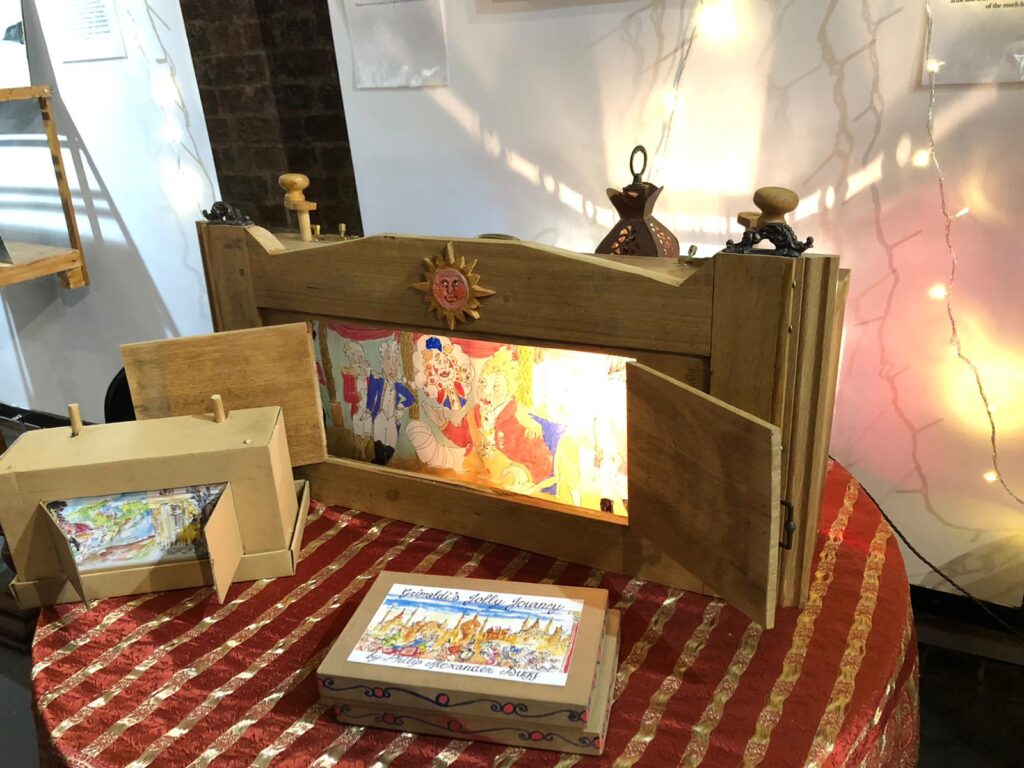 It may not be true history, but Philip researched the details of the journey on the scroll, which is wound through from frame to frame.
Having drawn each frame as a storyboard, he made them into a miniature scroll shown on a shoe box crankie to try it out. A Regency era version of television – the 'crankie' is a fun project to make in any size.
People loved seeing this moving image story of Grimaldi and the first person to buy three of the boxes was Catherine Grimaldi, a direct descendant of the great clown. After more boxes sold, Philip thought" why not a book"?
"The hilarious story is made even funnier by Phillip's quirky and lively drawings. A must for all adults who retain a child-like enthusiasm for the bizarre" Amanda Rosenstein Davidson
Phillip Suggs book 'Grimaldi's Jolly Journey' is published by YouCaxton and available from well known online bookshops or order one in locally.
Anecdotal post script: Google Maps at one point changed our address from 'The Market' Covent Garden to 'Clare Market' which was the original retail market building mostly with butchers in the area around the 1650s, however it is no longer known as a place name in the area. Joseph Grimaldi is said to haunt the Theatre Royal Drury Lane as a friendly ghost helping the actors remember their lines and I like to think he was haunting Google and reminding those who are in charge of Covent Garden now to remember his birthplace.