Zines! Get started with our Paper Ephemera Jamboree Bags! Posted on
Like any respectable Victorian toy shop,

Benjamin Pollocks

cannot help but be filled with all sorts of everyday treasures: from colourful paper scraps to fragments of Christmas decorations, doll faces to miniature tea sets, stringless vintage marionettes to broken second-hand toy theatres. All sorts of vintage as well as contemporary ephemera can be found here! However, although our shop only has so much available room to store everything we love in it, we had an idea… Anything – even the googly eye appeared out of nowhere overnight! – deserves a second life, which is why we decided to put together the Benjamin Pollock's Paper Ephemera Jamboree Bags! A little bit of a mouthful, perhaps…? Let me tell you more…
The Benjamin Pollock's Paper Ephemera Jamboree Bags are a selection of ephemera bits and bobs gathered around the shop and perfect to collect, decorate, or – why not? – tell a story with! How? Well, what about a zine? As opposed to a magazine, a zine is a small booklet, usually entirely hand-crafted and focusing on a specific topic the author wishes to explore and share: politics, culture or one's own porcelain dolls collection, for example! They include writing, imagery or any mixed media material and are usually produced under the 1000 copies.
As self-published material, zines have naturally appealed to minorities and subcultures over the years, being developed as a political propaganda instrument by the Black community in the 1920s, a way to share their passion by sci-fi enthusiasts in the 1940s and a mean of creative expression and socio-political activism by the punk and feminist movements in the 1970s-90s. After all, zine-making could not represent a more punk form of art, being self-made and encouraging self-expression itself!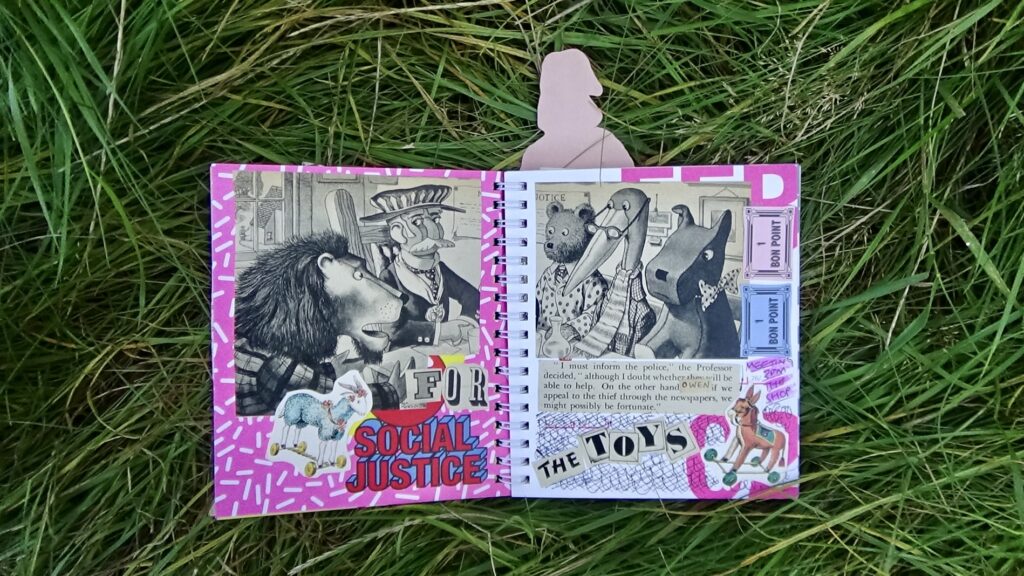 In a way, zine-making shares commonalities with the Victorian practice of scrapbooking, a method of presenting personal history in a book through the use of – once again – ephemera such as postcards, newspaper cut-outs, labels, etc. Scrapbooking acquired popularity particularly among women, who used the practice not only as a way of expressing themselves creatively, but also politically: many suffragettes kept scrapbooks, not to mention the numerous women who would openly challenge news coverage within the safety of their own pages.
Pollock's itself is very familiar with scrapbooks, often storing some antique and vintage treasures in its secret drawers…
Zine-making is the perfect example of an accessible and inclusive creative practice allowing the development of storytelling as well as designing skills. Layering content offers access to new ways of creating meaning, therefore inviting alternative perspectives into our everyday experience of life and the world. By not being "ruled" by strict structures or conventions and stressing the importance of self-expression instead, zine-making can truly make an author of everyone. Such alteration of traditional artistic hierarchies has the power to open the door to creativity to anyone who never felt "artistic", thus unleashing their most hidden potential.
If you are still unsure about it, here is something to spark your creativity even further and come visit us at Benjamin Pollock's Toyshop!
Chiara Scoglio 2023
Part 2 to follow: How and why on making Zines