Frills & Furbelows – Dressing Up and the Transformative Power of Costume Posted on
I smile to myself when I think how ONLY Pollock's customers would literally hold up the queue by dressing up as a 18th century society lady and turning up to Trafalgar Square. In 2015 we were running a workshop (for 20,000 people) at West End Live's annual theatrical showcase.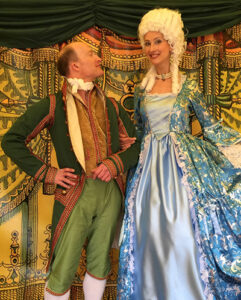 Artist Olia Manizer, who came to Pollocks through her love of dolls and puppets knows the power of dressing up and turned heads when she jumped on the bus to Whitehall and managed to catch a selfie with the police outside Downing Street enroute to the Pollocks marquee. She joined us where we were re-enacting the toy theatre version of Cinderella.  Perhaps Olia's giant paper dolls and articulated dancer puppets could be used in the era of social distancing which gives theatre in 2020 its logistical dilemma.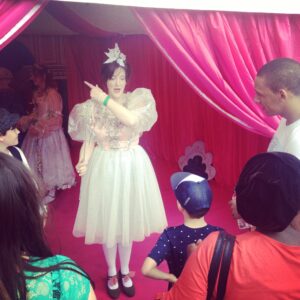 It was for West End Live 2014, that I really discovered the power of costume. We wanted to stage a Pollock's version of Les Enfant du Paradis. Customer and costume designer Robert Worley took us to the amazing Sands costume and prop house in Rotherhithe. The  experience of being dressed by an expert was transformative . Robert looked at my waist, measured my arms by eye and picked out a costume for me from a huge rack of period clothes. The costumes all lovingly sewn, dyed and embellished by generations of talented seamstresses were a fairytale to anyone whose favourite childhood activity was the dressing up box. And there I was, magicked by costume from behind the counter to Victorian Fairy Godmother. Olivier, the head costumier straight out of Phantom Thread told me that Helena Bonham Carter would always find her character at the costume fitting. I believe I inhabited the role at that point.
Whilst I set about accessorising with a wand and a tiara, we ran over to Cosprop, the company set up by renowned costume designer John Bright.
Robert had made a Grimaldi clown costume for Daniel Radcliffe appearing in the TV Series A Young Doctor's Notebook. The beautifully made  costume fitted Simon perfectly, so we know he has the same measurements as Harry Potter.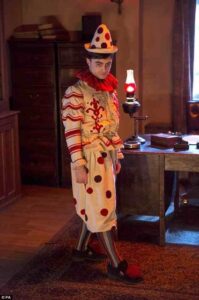 This year West End Live was cancelled. So whilst in lockdown to get our dressing up fix,  we talked to 18th century studies expert and star instagrammer Hannah Emily Glennon.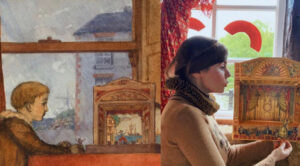 Hannah can fashion a bustle out of a bin bag and persuade her Dad to dress up in bed sheets to recreate famous paintings for the Getty Museum challenge. This dedication to the art of recreating art history through improvised costume has garnered Hannah some column inches from the New York Times to Grazia, India and a top spot on the Instagram account @tussenkunstenquarantaine
Opera Singer, Peter Braithwaite challenged Hannah for her ability to include puppets and dolls into the Getty Museum Challenge with his post recreating 'Lovey' a painting by Jamaican artist Isaac Belisario. "Lovey sold flowers in Kingston, Jamaica. As a way of increasing his income, he held nightly puppet shows"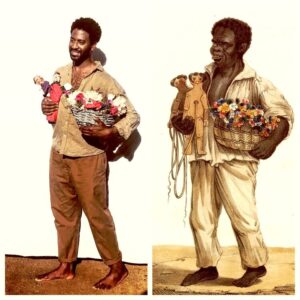 Peter with improvised costume, photography has educated followers on black history through bringing black portraiture to life and rediscovering his own ancestral history with his time in quarantine and his brilliant instagram account.