Hoddley Poddley and Other Nursery Rhymes – we talk to artist Hannah Dyson Posted on
"When she was good, She was very good indeed, But when she was bad she was horrid" (Poem by Longfellow) Hannah Dyson's Nursery Rhyme Decorations exhibited at Benjamin Pollock's Toyshop in Spring 23 are exuberant and joyful interpretations, but here new team member Chiara talks to Hannah about the dark undertones of Victorian nursery rhymes and the cautionary tales of many children's stories.
Chiara: Hi Hannah! Thank you for answering some of our questions as well as sharing your beautiful work with Benjamin Pollock's Toyshop. First of all, let's talk about the wooden decorations exhibited and on-sale at the shop: they seem to be inspired by a collection of Victorian nursery rhymes – how did you stumble upon these? 
Hannah: Hi Chiara, hope you are well and thank you for the kind words.
Victorian nursery rhymes… well as a child in the 1970s, nursery rhymes were still very much around us in the form of books, songs and on children's television. In the 1970s I think there was a re connection with the aesthetic if the not the ethos of the Victorian period. You can see it in the fashion and a lot of the illustration of the time; Maurice Sendak, John Vernon Lord and Edward Gorey (although the latter may be more Edwardian but it's the same claustrophobic atmosphere). Animators such as Oliver Postgate were producing beautiful dream-like stop motion animations which had a definite Victorian style. A few years ago I found  'The Mother Goose Treasury 'a nursery rhyme anthology, illustrated by one of my favourite artists Raymond Briggs, which is huge and full of obscure and bizarre rhymes….hence Hoddley Poddley!
Chiara: I always think about the Victorians as extremely curious people, which I find fascinating. It's almost as if every little detail of life somehow interested them. What exactly caught your attention about these nursery rhymes? Did you notice something unique about them?
Hannah: Thats really interesting Chiara.
I have mixed feelings about the rhymes, on one hand I am drawn to them because of this gossamer link to the past, a romantic notion of a more simple pastoral time. However, the reality was probably pretty brutal . I do love the surreal nonsense element of the rhymes which again is again a very Victorian theme as with the writing of Lewis Carroll , Edward Lear, etc. The rhymes often reflect moments in history but difficult to interpret as buried under totally weird imagery….Humpty Dumpty!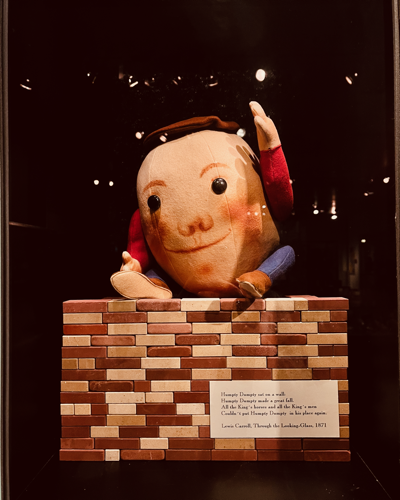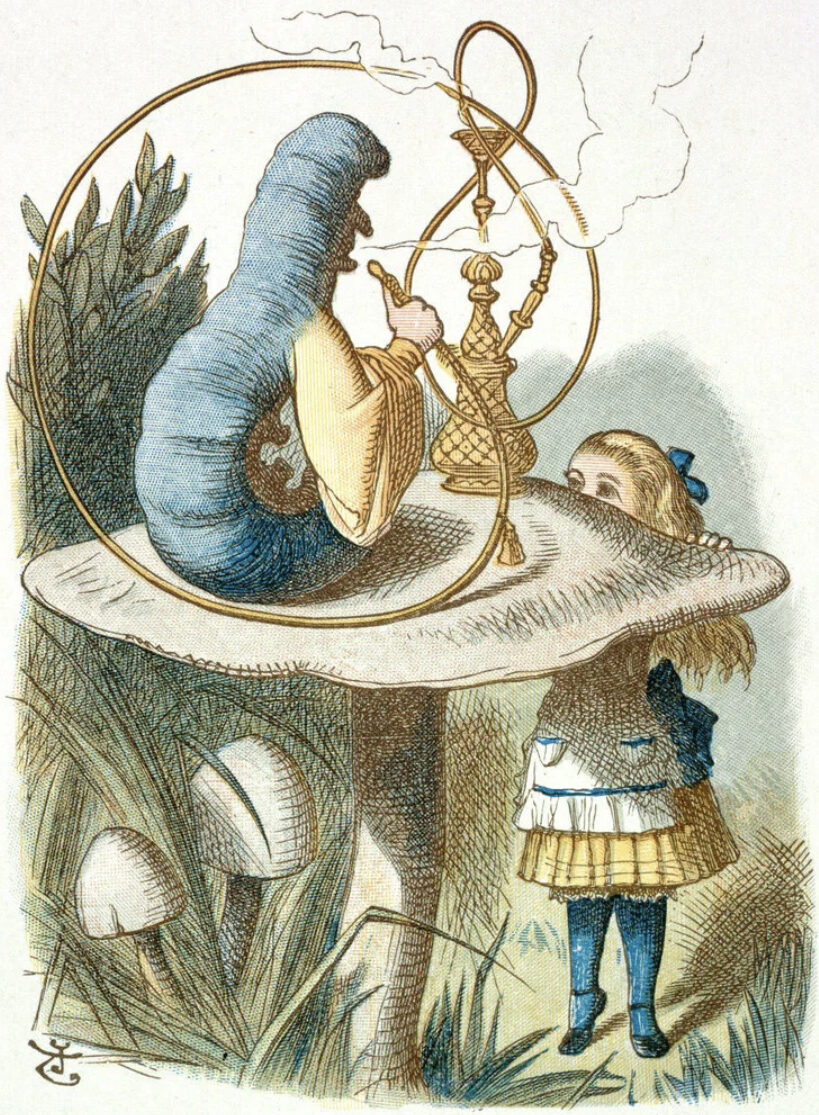 Chiara: What process did you follow to create the decorations – did you work with the wood yourself? How did you paint them exactly?
Hannah: I sketched out a rough design, then I scanned and brought it into adobe Illustrator to trace and create a vector line. I spent ages tweaking this line to create the right proportions . I then sent the designs to a local lazer cutting shop where they can trace your exact line. You have to be fairly precise and remember to think about how they will hang and twirl. I then sand them down and hand paint them, with brushes but also print with sponges to get a textured look I'm enjoying at the moment. They are all slightly different . The first one I made was a larger wall plaque as I felt compelled to draw a poodle marrying a cat ! They have an element of kitsch but made with sincerity if that makes sense.
Chiara: In regards to your technique, you seem to like to merge various media together: collage, shadow boxes, 3D paper installations, etc. Do you have a preferred technique? Does it depend on the project? And is there any medium you'd like to experiment with more in the future?
Hannah: Drawing is at the centre of everything I do . When I do a paper collage I'm building an image with shape and texture but its essentially a different way of drawing. The same goes for when I work in Photoshop or building an image with stencils and printing. Designing paper models such as the theatre for Pollocks was so challenging but incredibly satisfying. I think its important to try things and push yourself, I do like to mix it up! If something is for print I might use the computer but less and less these days. I'd love to do some large outdoor sculptures…..a range of elementals that might live in the garden.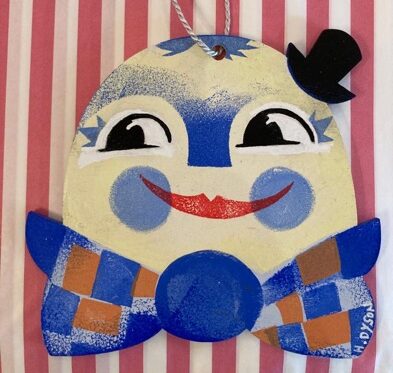 Chiara: Being raised in Italy, Pinocchio was one of the fairy-tales I've always been most accustomed to. My grandmother owned a very old copy of the book with beautiful illustrations accompanying the narrative. I read it a few times, enjoying the story, but also feeling both intimidated and fascinated by parts of its hero's journey. What always stuck with me, however, was one of the drawings: Pinocchio asleep by the fireplace, his feet and legs catching fire without him noticing. I'd often sneakily open the book to have a peek at the horrific image, although it'd give me nightmares. I suppose "darker" stories often have this effect on us: they unsettle our minds, but also attract and give us access to a mysterious and even, at times, prohibited quality we don't always get to experience in real life.
Thinking about your past work for Pollock's Pinocchio toy theatre and kaleidoscope, we'd be curious to find out more about your impressions of and ideas about this famous cautionary tale. As somebody who seems to be naturally drawn to more mysterious stories, what exactly do you find interesting about Pinocchio? Where do you feel its "darkness" really stems from – the preaching tone of the narrative? The specific adventures Pinocchio finds himself on? Or his identity as both marionette and child, perhaps?
Hannah: Thank you for sharing that memory and I think its one a lot of us can relate to…. feeling compelled to return to a  deliciously frightening image in a book even though we find it deeply unsettling. When I was a child there were several books at home that I'd pore over with a horrid fascination. There was one picture I remember by Walter Crane of Bluebeard's wives …. similarly disturbing. Originally fairytales were always designed for both adults and children to read together and so didn't shy away from being violent or disturbing. The original version of Snow White has the evil step mother dancing to death in a pair of red hot iron shoes as her punishment! I think Pinocchio has that same kind of brutality to it, he is burnt and even hanged in the original story isn't he? Even the version by Disney has been described as the 'darkest' of all their animated films. Visually the story has everything: a living doll, fairies, whales, foxes, cats, good and evil.  All woven around a pretty terrifying narrative! I remember hating how frustrating Pinocchio was, continually repeating his mistakes. Maybe its the idea of being lost and separated that I found particularly frightening as a child.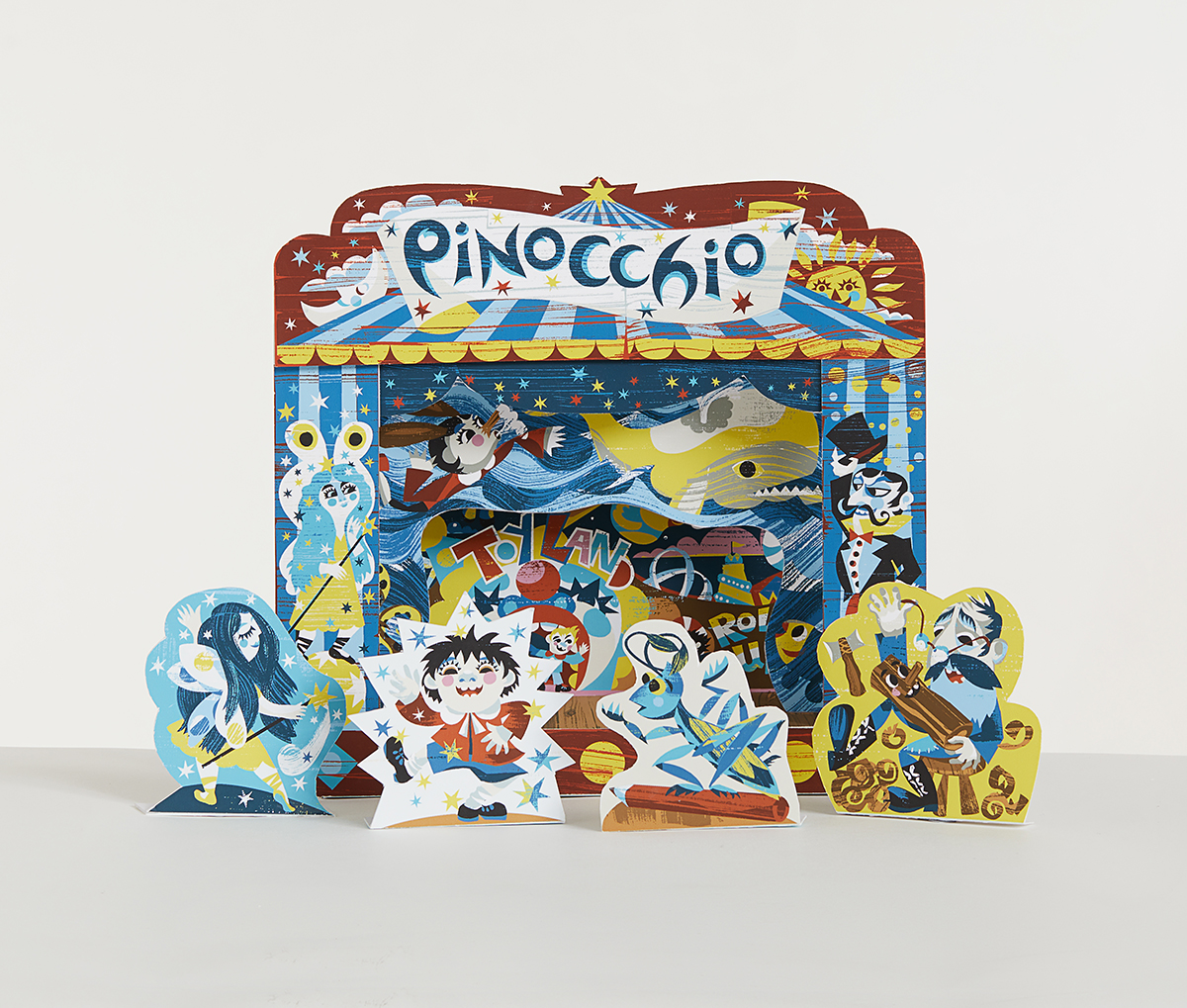 Chiara: Pinocchio being both a marionette and a child offers the perfect ground to play around with puppetry and animation. A perfect example of this is Guillermo Del Toro's recent adaptation of the story into a stop-motion feature-length film. Have you seen the movie? If so, what did you think of it? The version was heavily adapted for a 21st century audience by making its cautionary objective very nuanced – in fact, historical circumstances and characters' psychologies assume more of a three-dimensional quality. How effective do you think this proved to be? Is there anything at all you would have done differently?
Hannah: It was fabulous ! I really enjoyed it and I thought it was an interesting interpretation . I would have to re watch it to answer some of your questions properly though as I just gave myself over to the visual treat of it all. One thing I would say is that the songs in the Disney version are unbeatable, and I think this version could have dispensed with them altogether. 
Chiara: Do you have any upcoming project you'd like to tell us more about? What have you been inspired by lately?
Hannah: I am doing a collaboration with another artist, Jim Pilston, based on local folklore and stories where we live in the Cotswolds. It includes sea serpents, ghosts, witches, giants and lots of other strange characters. I'm also writing a series of short 'poems' to accompany them and help explain the madness really! Jim works in recycled art and three dimensional sculpture and I'm doing a bit of everything . It is definitely a work in progress for an exhibition in November.
Chiara: Finally, you've worked in the shop in the '90s! Has Benjamin Pollock's Toyshop influenced you and your art somehow?
Hannah: Oh definitely, I was aware of Benjamin Pollocks as child. My mum would sometimes buy us stocking fillers from there and I particularly remember this tiny match box farm. I would always stare at the illustration on the front which was very simple, and I suppose pretty surreal, but it was like looking into the window of a calm and safe world. Also, the wonderful  paper theatres and paper ephemera have been a huge influence .